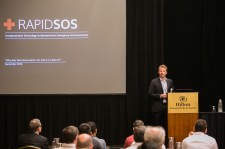 Pulsiam hosted guest speakers from Drakontas, LanguageMAPS, Pacific Disaster Center, RapidSOS, and Sitepen at its annual user training and networking conference in Los Angeles
Studio City, CA, October 27, 2016 (Newswire.com) - Last month, Pulsiam held its annual user training and networking conference, SafetyNet Conference 2016, in Los Angeles, California. Leaders from some of Pulsiam's partner companies attended as guest and keynote speakers, including: James Sim, President and COO of Drakontas; Lance Manning, CEO of LanguageMAPS; Ray Shirkhodai, Executive Director of the Pacific Disaster Center (PDC); Reinhard Ekl, Director of 9-1-1 & Product Development at RapidSOS; and Dylan Shiemann, CEO of Sitepen.
Guest speakers spoke on their own areas of expertise, conveying to attendees the power of web apps and technology to solve problems in the public safety industry, including solving problems with coordinating tactical emergency responses, managing disasters, overcoming language barriers, and pinpointing the exact locations of 9-1-1 callers. 
"We wanted to showcase our partnerships at the conference," explains Holly Blanks, Director of International Business Development at Pulsiam. "We have worked hard cultivating partnerships around the world in an effort to bring cutting edge technologies and best practices back to the United States and Mexico. Each of our partners is the best at what they do, and each solves a unique problem in the public safety industry that needs solving. We were proud to introduce them to our customers and have them talk about technology, public safety, and disaster management practices from around the world."
For more information about Pulsiam's partnerships, please contact Holly Blanks, Pulsiam's Director of International Business Development, at hblanks@pulsiam.com.
About Pulsiam:
Pulsiam established itself as a leader in the public safety software industry in 1986. The company takes pride in meeting the needs of public safety agencies with its SafetyNet Suite of software applications, including computer-aided dispatch, records management, reporting, and fire and jail management systems. Pulsiam is committed to tailoring its SafetyNet product line to adapt to the changing technology of this mission-critical industry.
Source: Pulsiam
Share: