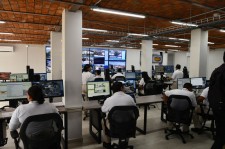 The new C4 features the SafetyNet CAD Video Management System Interface with access to 555 security cameras
TLAJOMULCO, Mexico, March 16, 2018 (Newswire.com) - The municipality of Tlajomulco, located in State of Jalisco, Mexico, opened its Command, Control, Communication and Computing Center (Centro de Comando, Control, Comunicación y Cómputo (C4)) last month, a culmination of two years of hard work. The C4 utilizes SafetyNet CAD, SafetyNet Mobile Insight and the SafetyNet CAD Video Management System (VMS) Interface amongst other SafetyNet applications. Pulsiam President Henry Unger was in attendance for the grand opening.
"We are very proud to have been involved in this project," explained Carlos Lopez, director of international sales at Pulsiam. "At Pulsiam, we believe our customers, and their citizens, deserve cutting-edge technological solutions and we work hard to deliver a solution that serves their needs."
The C4 will now be able to monitor 144 different locations throughout the municipality through 555 security cameras, according to Publimetro.com.mx. This could not have been achieved without the SafetyNet CAD VMS Interface, which allows call takers and dispatchers to manage multiple streams of video footage from surveillance cameras, directly from SafetyNet CAD.
This project is just one of many budding projects in the works at Pulsiam. "We're excited to be growing in the Latin American marketplace," explained Unger. "We're excited to be helping to implement state-of-the-art public safety software systems that utilize all of the available infrastructure and arm agencies with the information they need to protect the citizens they serve."
About Pulsiam
Pulsiam established itself as a leader in the public safety software industry in 1986. The company prides itself on meeting the needs of public safety agencies with its SafetyNet Suite. Pulsiam is committed to tailoring its SafetyNet product line to adapt to the changing technology of this mission-critical industry.
Learn more at www.pulsiam.com or contact: 
Holly Blanks
hblanks@pulsiam.com
+1 (310) 691-8126
Source: Pulsiam
Share: