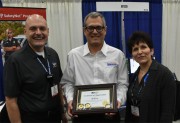 Hitech leads presentation at APCO Western Regional Conference 2016 and demonstrates support for APCO through sponsorship.
Portland, OR, March 11, 2016 (Newswire.com) -
Hitech Systems, Inc. served as a Diamond Plus sponsor for APCO Western Regional Conference 2016, which took place this week in Portland, Oregon at the Oregon Convention Center. The Association of Public Safety Communications Officials (APCO) International is an organization of public safety communications professionals focused on providing professional development, advocacy, outreach, and education for public safety communications personnel.
As part of Hitech's Diamond Plus sponsorship, it hosted Wednesday's exclusive networking event, the Portland Spirit Evening Cruise. 
"These events are opportunities for public safety professionals to get together, share ideas, and share experiences" explained APCO Western Regional Conference Co-Chair Mark Spross. "Hitech's sponsorship has helped make this possible for everyone in attendance."
Hitech's support extends beyond sponsorship. Hitech President Henry Unger, along with Jerry Schlesinger, President of IntelliSYS, taught a class on Emergency Incident Data Documents (EIDDs), documents that allow public safety answering points (PSAPs) and communication centers to effectively communicate incident information with other PSAPs, comm centers, or other authorized agencies. 
"We are so happy to have an opportunity to share the concepts of the EIDD with members of this community. It is such an important element of Next Generation 9-1-1, the future of public safety," Unger explained after the presentation. "It's important that agencies start planning for the implementation of these new NG 9-1-1 technologies to improve emergency response throughout North America as we migrate away from legacy 9-1-1 services."
APCO Western Regional Conference ended Thursday with a closing luncheon. Please contact Holly Blanks, Director of International Business Development at Hitech Systems, Inc., at hblanks@hitech.com if you are interested in learning more about Hitech's support for APCO.
About Hitech Systems, Inc.:
Hitech Systems Inc., has established itself as a leader in the public safety software industry since 1986. The company prides itself on meeting the needs of each public safety agency with its SafetyNet Suite. Hitech is committed to tailoring its SafetyNet product line to adapt to the changing technology of this mission critical industry.
About the Association of Public Safety Communications Officials (APCO) International:
APCO International is the world's oldest and largest organization of public safety communications professionals and supports the largest U.S. membership base of any public safety association. It serves the needs of public safety communications practitioners worldwide, and the welfare of the general public as a whole, by providing complete expertise, professional development, technical assistance, advocacy and outreach.
Share: