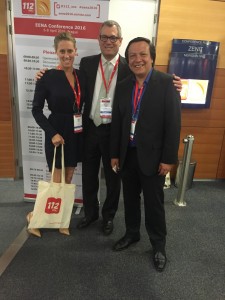 Hitech Systems, Inc. and Pulsiam S.A. de C.V. participate in global public safety conversation at EENA.
Prague, Czech Republic, April 19, 2016 (Newswire.com) - Hitech Systems, Inc. and Pulsiam S.A. de C.V. attended the European Emergency Number Association (EENA) conference for the first time in both companies' histories.
The conference took place April 6-8, in Prague, Czech Republic. It featured leading international experts in the public safety field and the newest public safety technologies.
"As first time participants at EENA, we were thrilled to attend," explains Pulsiam representative Holly Blanks, Director of International Business Development. "EENA gives the international public safety community a chance to meet and learn from each other. These opportunities are invaluable."
EENA welcomed public safety leaders and professionals from all over Europe, according to the conference's website, and as well as participants from Australia, China, Egypt, Georgia, Israel, Lebanon, Malaysia, Mexico, Nepal, New Zealand, Nigeria, Thailand, Turkey, the United Arab Emirates, and the United States of America.
About Hitech Systems, Inc.:
Hitech Systems, Inc., has established itself as a leader in the public safety software industry since 1986. The company prides itself on meeting the needs of each public safety agency with its SafetyNet Suite software. Hitech is committed to tailoring its SafetyNet product line to adapt to the changing technology of this mission-critical industry.
About the European Emergency Number Association (EENA):
The European Emergency Number Association is a Brussels-based Non-Governmental Organization (NGO) set up in 1999 dedicated to promoting high-quality emergency services reached by the number 112 throughout the European Union (EU). EENA serves as a discussion platform for emergency services, public authorities, decision makers, researchers, associations, and solution providers with a view to improving the emergency responses in accordance with citizens' requirements. EENA is also promoting the establishment of an efficient system for alerting citizens about imminent or developing emergencies.
Source: Hitech Systems, Inc.
Share: