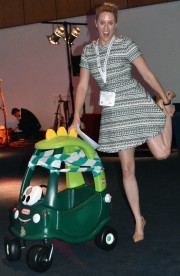 Pulsiam representative Holly Blanks raced for charity last Tuesday night.
Telford, UK, March 31, 2016 (Newswire.com) - Hitech Systems, Inc. and Pulsiam S.A. de C.V. both attended the B-APCO Annual Dinner, held Tuesday, March 22nd. The dinner featured a multi-agency race for charity, where participants, acting as emergency services, raced to an "incident" with toy cars. Proceeds were donated to Midlands Air Ambulance Charity, a charity dedicated to providing air ambulance service to the UK; Police Dependants' Trust, a charity dedicated to providing financial support to police officers and their families in the event of that officer being seriously injured or killed while on duty; and the Firefighters Charity, a charity dedicated to enhancing quality of life for serving and retired firefighters and their families.
Pulsiam representative Holly Blanks, Director of International Business Development, was nominated to act as one of the emergency services racing to the incident.
"This was our first time attending B-APCO's Annual Dinner, and we were thrilled to participate in an event that would help so many great charities," Blanks commented after the race. "It was an honor to give back to members of the community who give so much."
The Annual Dinner raised  £2,311 ($3,323.30 USD), which is more than it had ever raised before.
Both Hitech and Pulsiam look forward to returning to B-APCO next year.
About Hitech Systems, Inc. and Pulsiam S.A. de C.V.:
Since 1986 and 2004, respectively, Hitech Systems Inc. and Pulsiam S.A. de C.V., have established themselves as leaders in the public safety software industry. Hitech and its Latin American subsidiary pride themselves on meeting the needs of each public safety agency with their SafetyNet Suite. Hitech and Pulsiam are committed to tailoring the SafetyNet product line to adapt to the changing technology of this mission-critical industry.
www.hitech.com | www.pulsiam.com
About British APCO:
British APCO (B-APCO) is an independent, user-led, professional members association formed to promote, influence, and advance the use and development of communications and information management for public safety professionals.
Share: